This last week I finished up & got my table runner for the Table Top Swap on it's way to it's new home! I really loved trying out this new block from Amber at One Shabby Chick. It's very easy & looks so great! I used Flea market Fancy & my favorite Lakehouse seed catalog print.
I made up three blocks & sashed them with a 2" grey heath like print.
I couldn't decide on the quilting for awhile but in the end went with a simple stipple that brings the look together.
It's bound it in a pretty aqua posie FMF print & I hand bound it for a perfect finish. The backing is a claire blocks print in yellow.
I am so happy with how it turned out, I wished I could keep it for myself!:)
My partner likes brights,retro & FMF so I hope this will make her squeal with delight!
And I finally remembered to add my labels! So much fun!
This is the lovely runner I received in the swap. My partner got my love of simplicity & straight line quilting down! The colors are so bright!
Maybe you all have suggestions on what do you do when you receive something in a swap that you feel is not really your style? There are times that I feel bad that I'm not super excited about something, but still I want to appreciate all the time & work that my partner put into making the item for me?
My conclusion has been to just be happy with what I get & thank the person anyway for all their time & effort. Who knows, maybe the item's I send out are met with the same feelings?! I guess that is the risk in a swap like this. There are times where I've thought "why not just follow along but make myself a item that I love" but then what is the fun in that? There is always that chance that I'll get something really great in return!
So apparently I've been on a table runner kick these last two weeks, because look what else got finished up! I've had this quilted & ready for the binding for a while now & finally got it sewn on & hand stitched it to the back during a movie the other night!
These are just simple coins & strips of Heather Bailey fabric along with some essex linen. I love how it's so light but bright at the same time & so perfect for summer! I have it on my dining room table now with a vase of flowers fresh from the garden! The joys of summer!
May you all have a great week sewing beautiful things!
xKaren
Linking up to Sew Modern Monday at Canoe Ridge Creations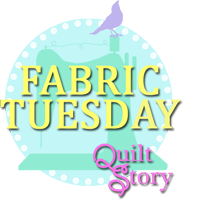 And Fabric Tuesday at Quilt Story
I am also adding my two finished table runners to 12 in "12 challenge over at Amy's.